Description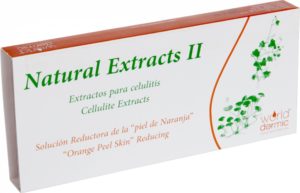 Centella Asiatica
Provided that the volume of adipose tissue in the hypodermis is reduced and the subcutaneous tissue, with any technique aesthetic impact, it is faster than as might occur spontaneously; so one of the drawbacks of the cosmetic treatment is the rapid reduction of sagging tissue.
COCKTAIL NATURAL EXTRACTS FOR CELLULITE contains gotu kola, ivy and fucus. Gotu kola is a great regenerator and bio stimulant with firming capacity.
Ivy has a detoxifying capacity with peripheral vasodilator action, an anti-oedema effect and draining action of the products of lipolysis.
Fucus has a moisturizing, lipolytic and anti-oedema effect that promotes capillary circulation, improving the tropism of cellulite affected skin.